Our team is made up of different nationalities from many walks of life, making the camp vibe all the more interesting.
The enthusiastic founder of Surf & Yoga Retreats is an adventurous surfer. If he doesn't catch the Portuguese waves, he surfs the Sri Lankan ones.
His lifelong love affair with surfing kicked off in the south of Sri Lanka. He has always felt at home in the deep blue. Priyal launched his first surf school in 2012 and his Surf & Yoga camp in 2014 with passion and love. He can answer all questions about the secret spots in the jungle island and surfing in the tropics.
Co-founder, Soundhealing,
Operations & Management
Carolina is a free spirit who loves the simple and the good things in life. In 2019 she quits her corporate job and decides to dive deep into spiritual studies by completing an Yoga Teacher training in 2015 in USA. In Portugal she creates her own community of students who really inspired her to develop more techniques to share and help others in their healing journey. She loves to meet new people around the world. Very Intuitive and compassionate for others she will show you care and nurture, making you feel at home within the community.
Co-founder, Yoga Teacher,
Events, Group Retreats & YTT (B2B)
Theresa is an ocean lover since she can think and passionate world traveler 'following the sun'. On this journey, life brought her to Surf & Yoga Retreats, where she fell in love with the spirit. She is combining her passion and values of a holistic life as a Yoga Teacher – organizing and hosting Retreats around the the world with her projects of soulful content & consulting. On the mat Theresa is redefining advanced Yoga new – where she teaches you to find balance within rather than standing upside down, where meditation can be dynamic and where you are able to slow down while flowing.
Holistic & Conscious Dinner Chef
Mafalda loves to travel, discover new places, cultures, people – and the flavours to explore them in her kitchen. One of her passions is cooking where she puts her intuition, alchemy and love into each dish she cooks, providing a feeling of sharing, connection,
nutrition and healing through food. She believes that everyone has responsibility and awareness of daily consumption and choices, knowing what we are eating and putting in our temple, the need to eat locally and establish contact with producers, become aware of food and its production season, give preference to organic products, use minimal packaging and intermediaries.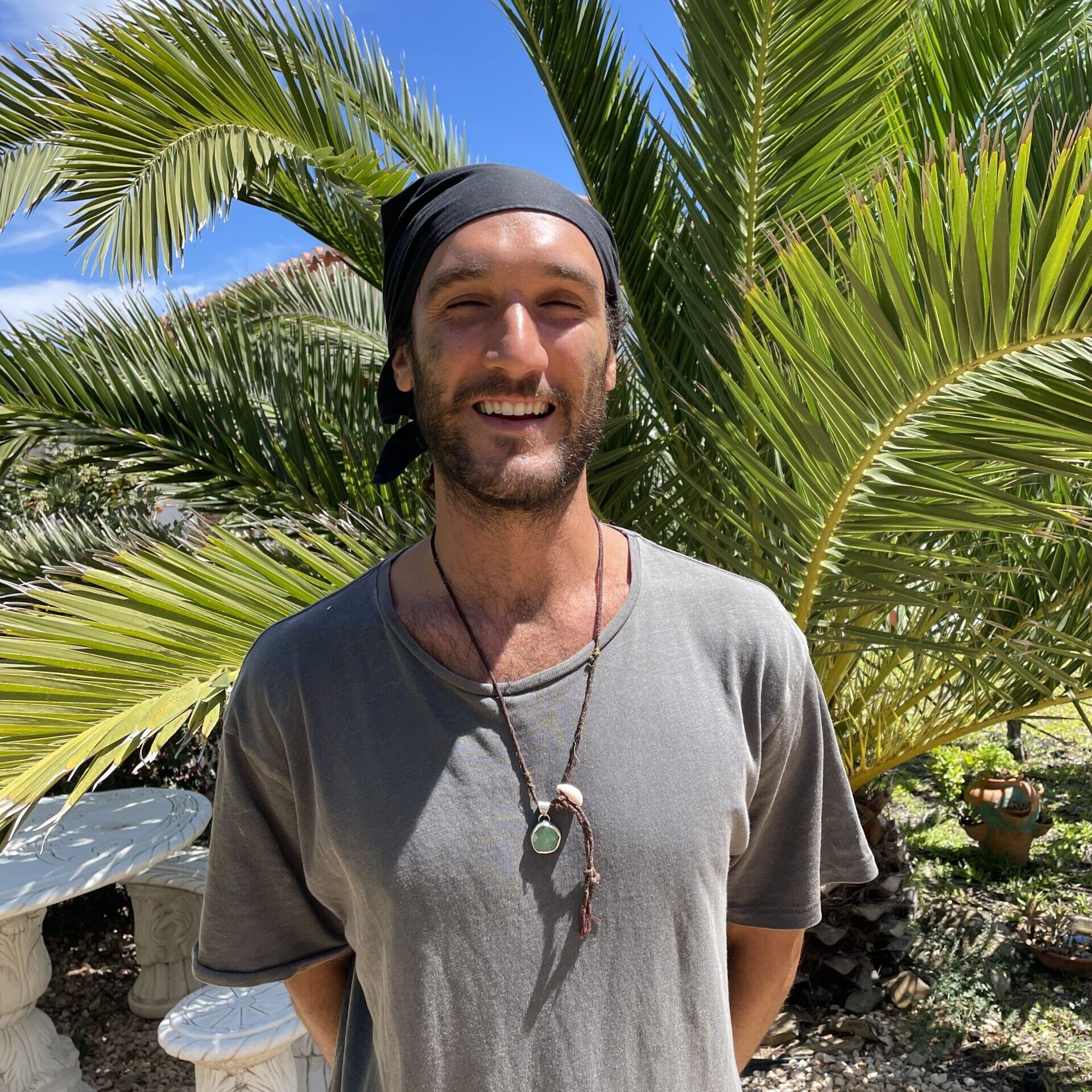 Lucas is our talented Breakfast Chef with experience in kitchen around the world, starting in Australia. He is originally from Brasil and started following his passion for surf & good food in the beautiful coastline around Aljezur.
Yoga Teacher & Allrounder
Laura is a passionate yogi from Amsterdam who grew up close to the beach and therefore has a big love for the ocean. She loves anything health related and has a professional background in working with plant based & healthy food. On the mat she brings vinyasa and yin together in balancing flows; always teaching from the heart. If she's not in the kitchen or in the yoga shala you can find her in the ocean with a surfboard discovering her new passion for catching waves.
Massage Therapist & Yoga Teacher
Eva is passionate about a healthy life and caring for other people. She has been for more than 14 years accompanying people on the path to self-knowledge and healing. She is a naturopath, yoga teacher and massage therapist. The type of massage offered at the Retreats of Surf & Yoga Portugal is a fusion between the 3 paradises of Hawaii, Algarve and Japan. A delicious mix that uses techniques of stretching, acupressure, relaxation and energetic harmony. Eva likes to live, travel and work near the sea, and her massages bring this reflection of the waves to the body.
João Rafael, a 23-year-old born and raised in Portugal, works as a qualified therapist. João Rafael's spiritual journey began in childhood, guided by a loving mother. At the age of twelve, João Rafael took the first Reiki course, igniting a lifelong passion for healing. Continuously seeking new knowledge and courses to enhance therapies, João Rafael feels a deep calling to assist others. Through this service in the world, there is a strong necessity to care for oneself and evolve as a spiritual being, as the more light carried within, the more light that can be shared. João Rafael offers multiple therapies, including Miofacyaal release, craniosacral therapy, guided meditation, Reiki, and multidimensional healing.
"AS wide as the ocean - as wide is our passion in what we do. Together we create the best time of your life!!"
Ready for the trip of a lifetime with us?
Our surf programs are comprehensive in that it not only includes plenty of time in the surf, but video analysis & feedback and surf theory classes.
Yoga complements surfing in many ways. It strengthens three main skills any beginner surfer should aim to develop in the medium run.
Check out our wide selection of surf and yoga packages to find the one that suits all your needs.